Epic day! We spent 5 hours at the pyramid complex officially checking off the number one item on my bucket list.
We started the morning with a simple breakfast of bread with cheese, hard-boiled eggs, and tea on our hotel rooftop made by our "host." This was included in our ridiculously affordable $83 for 5 nights reservation that I got on Airbnb. Our host Rahoma is very kind and wants to take good care of us. We like him a lot. The thing is we don't really need someone to take care of us.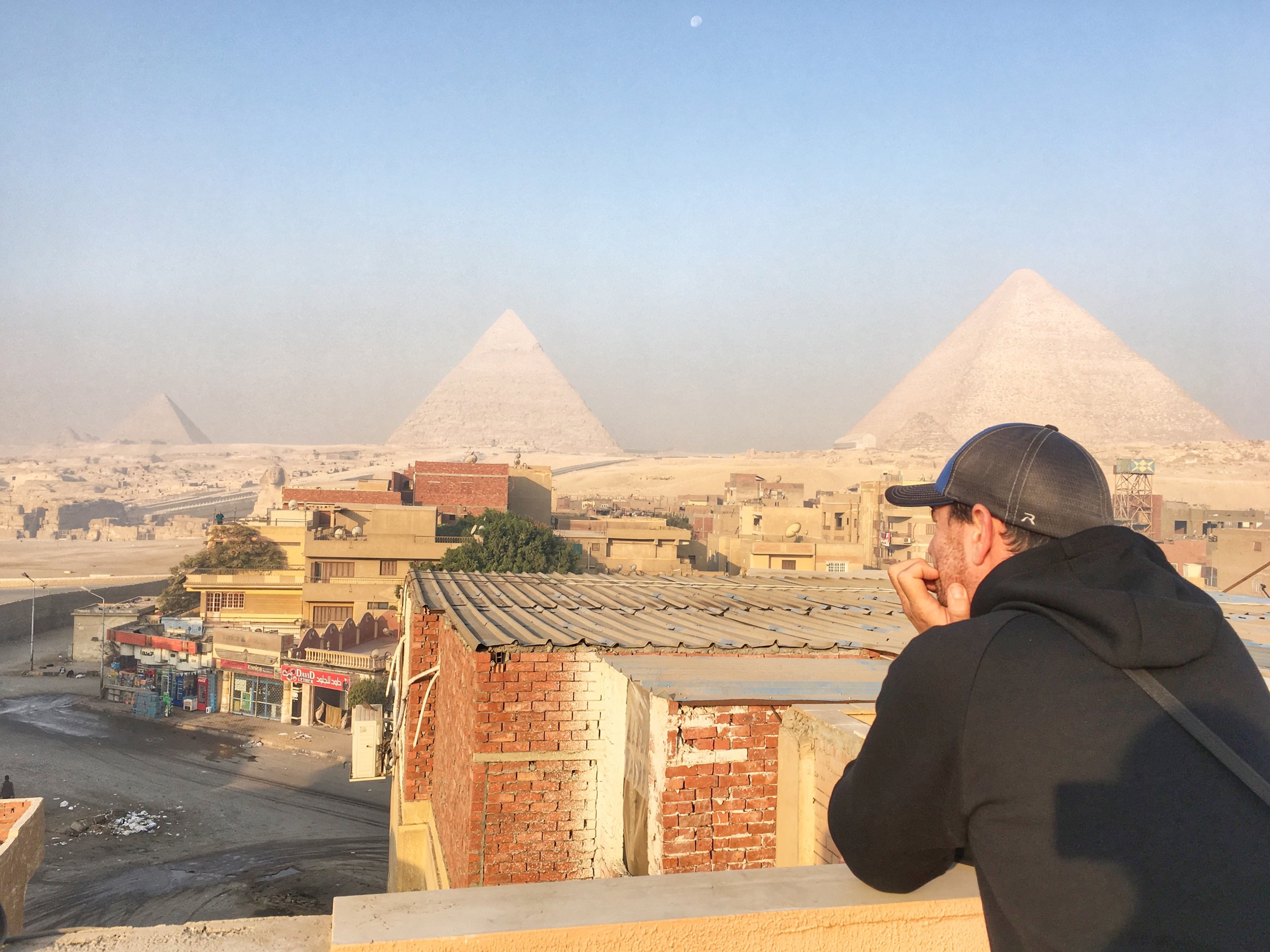 Somehow last night he convinced us to go with him to tour the pyramids. We don't usually hire guides or pay people to arrange things for us, but I thought this sounded like a fine idea. So we did it, and we were taken by car by the same guy who picked us up at the airport last night, Isham.
Our Egypt Vlogs…
When we arranged this I felt I was very clear about wanting to be there before it opened and Rahoma assured me twice that the gates opened at 9am. Well, as we were sitting on the roof eating at 8am, I could see people and cars in the complex, and people already standing on the Sphinx viewing platform. Oh man I was gutted. I wanted to beat the herds of package tourists arriving by bus.
So as we approached the main entrance in our trusty little clunker, there were already a dozen or so tour buses, but at least there was no line to buy tickets. And even with so many people there already, it didn't feel packed at all once we were inside.
Rahoma explained the angles of the pyramids by drawing on the asphalt. It was a challenge to truly comprehend all the details he was telling us because of his thick accent. Oh, and the grade A people watching had us distracted at times too.
I was warned we would be hounded by touts at the pyramids, and I felt prepared to deal with it. I mean, come on, surely it can't be worse than India.
It wasn't as bad as India. Not by a long shot. But the Egyptians have different tricks than I have seen and was caught off guard right away.
As we approached the Great Pyramid of Khufu the touts were everywhere making it challenging to get a photo, let alone stand silently in contemplation of the great mystery before us.
"Hello. Where from? You want souvenir? Pyramid?"
"Laa shukran. No thank you."
"I give you gift," as he's staring down at Nicks shiny metal legs. "You are special. Take gift. From me to you."
He puts a small coin purse in my hand and a pyramid in Nicks hand.
"No. No. Laa shukran. No," as I hand it back.
"Yes you take. No money. Gift from me."
I politely say no and we hand it back and forth two more times before I keep it and walk away leaving Nick in the midst of a kindness battle with the smiling, seemingly genuine man.
Kindness doesn't work sometimes. And nothing in Egypt is free.
I walk 15 meters away to take a photo and he approaches me again asking for money for the gift he just gave me.
Believe it or not, I did not see that coming. What!?! But how? I don't know. Because I'm an idiot. Because I was too excited to be there. I just wanted to carry on and enjoy my time and thought that by walking away I'd ditch him.
Nope. This is their tactic at the Pyramids. So I gave it back to him and said no very firmly and walked away. That same scam was tried on us over a dozen more times throughout the day.
We bought our tickets to enter inside the Great Pyramid of Khufu and clambered up to the entry door. The outsides of the pyramids used to be cased in smooth limestone, but now it's almost all gone, exposing the individual stones. 2.3 million of them, weighing 2.5 tonnes each.
Several locals were outwardly questioning whether Nick could do the hefty climb, including our guide Rahoma. Well-intentioned, of course, but he was going to give it a try and find out for himself. After all, this is Nick fucking Fener we're talkin about and we came a long way to do this.
As we entered the pyramid the first 20 meters were flat and felt like we were in an underground cave like the ones we visited in Tennessee and Texas.
Then we got to the steps.
The first incline was a distance of 72 meters along a wooden walkway with small horizontal wood grips every meter, flanked by dull brass handrails. The low ceiling meant we were crouching the entire way up to the next cavity.
It was such a narrow corridor, with the in and out paths sharing the same tiny space. Some people we passed were gripping the handrail in a state of terror, some were sweating and panting heavily, some were so big I became squished against the rail as they miraculously squeezed through. And sometimes, we had the entire path to ourselves, to pause and enjoy. Holy shit, we were inside the Great Pyramid.
The next section of the climb had a very high ceiling and gave me the distinct feeling that we were climbing inside a pyramid. It was unreal. I stopped several times to just savor the moment of a life long dream becoming reality.
At the top, we entered a room where we got to see stones untouched by weather and how they laid perfectly together. It was just an empty cavern except for a raised, unfinished tomb.
There were a few fans for airflow as well as some lights so we could see. And for a brief moment inside the cavern, the power went out.
It was pitch black! We were inside a giant pyramid in literally BFE and the lights just went out. The first thought that crossed my mind was how the fuck were we going to get out of there. I'm pretty sure I threw my arms and legs out to the side and crouched down like a scared cat being lowered into a bathtub. And I'm pretty sure the lights came back on while I was still in that position. But I played it cool. I was just doing yoga.
After visiting the Great Pyramid we hopped in the jalopy and drove to a panoramic lookout point out in the desert to get a stunning view of the three pyramids. This is when we realized that the Egyptian touts have a strange view of Americans.
At this point, a total of 5 different people said, "HI HO SILVER! AMERICA FOREVER!" after learning we are from the U.S..
Hi Ho Silver? How outdated is that American culture reference? Traveling overseas in the past I've heard, "Oh, you know Madonna? You know Mickey Mouse?" But Hi Ho Silver? Too funny.
At the plateau, there were dozens of young Egyptian men on a tour taking way too many pictures of each other in various masculine body positions in front of the pyramids. They desperately wanted a group shot with Nick and waited patiently to get their selfie on.
Afterward, we drove back down to the third pyramid, Menkaure and went inside. They forced me to surrender my GoPro at the entry before descending down into the tomb area.
This time the path took us down into the pyramid instead of up. It was low and narrow, forcing us to crouch the entire way down. Once we were inside we were greeted by an enthusiastic Pyramid guard who offered to take our picture if we "shhhhh secret" didn't tell the outside guards.
We obliged knowing it was a racket immediately. He held onto my iPhone and ushered us forward through the next passageway to take more and more pictures of us. But shhhhhh. Secret. I was totally okay with this because it's awkward to get shots of the two of us. So 5 minutes later before he could even ask for money I was happy to hand him 20 Egyptian pounds ($1.14 USD) for his effort.
It was just the three of us the entire time we made our way through the three distinct levels. Unbelievable that there were no other tourists in there for those 8-10 minutes.
Our last stop on the tour was the Sphinx, down near the exit gate. On our way down the hill we finally got a glimpse of the infamous Pizza Hut that sits right at the edge of the pyramid complex.
I had read many negative comments on how the encroachment of the city really ruins the pyramid experience. Nick and I don't agree at all. In our opinion, the city feels distant and adds to the view when you're up at the pyramids. The contrast is beautiful in its own way.
We acknowledge that the city scape blended into the background partly because of the thick smog and that maybe on a very clear day it could potentially be an eyesore to the right Debbie Downer lucky enough to visit Egypt in the first place. The only time we felt the city closing in was when the Pizza Hut came into view when we were near the exit gate, and that was after a few hours there.
Made from one giant slab of stone in an age of primitive tools, the Sphinx is incredibly impressive, albeit much smaller than I imagined. The nose has been missing for years. Rahuma told us it was shot off. I've read it was hammered off. Who knows? And who even knows what it's purpose was for. To guard the tombs maybe, but it's all part of the mystery.
We snapped a few pics, watched a few interesting people trying to stage a kiss with the Sphinx, and studied its features as our guide explained his version of history.
Our tour was over. I refused to have Rahuma take us to perfume and papyrus stores like he offered to do. We were ready to ditch him anyway. Instead of getting a ride to the hotel we stayed in the complex to just hang out for a while.
We took a horse carriage back up the hill to sit at the base of the second pyramid where a group of camels and horses were resting. This pyramid is the only one that still has a little bit of the once shiny limestone casing at its peak. I would have loved to have seen the pyramids before 4000 years of wind and sandstorms got to them!
We were only approached a few times to ride a camel before everyone finally left us alone to sit in peace. No, we weren't going to ride a damn camel. I just wanted a few pics with one, which I already got. The camel I got to pet was called Michael Jordan and I loved every second of it.
Sadly a lot of the work animals near the pyramids don't look very healthy. They're likely overworked and underfed. Part of it is due to the decline in tourism creating hard times for the Egyptian people who make their living off of visitors. I also suspect that they don't look at their animals as pets or friends or coworkers, but rather as slaves.
Most touts who approached us were quick to explain their hardships with us, as is the case in every country we've visited. But we could feel it here too. There weren't very many tourists at all, at least not as many as we'd expect. Nick was shocked at the lack of tourists actually. Apparently 10-20 years ago there would be a line wrapping around the Great Pyramid to take the hike inside. Today there were relatively very few people and certainly no wait.
When we finally left the complex after spending 5 hours there we were famished and hit the street looking for kabobs. Lamb chops and shish kabobs with bread and tahini put us in a jetlagged food coma that resulted in a 4 hour nap.
Around 8pm we got up and hit the streets again looking for more food. Once out of the pyramid complex we weren't hassled at all, even at night. In fact, everyone we walked past smiled, waved, and said, "Welcome to Egypt."
I was honestly expecting to be harassed more. Egyptian men do have a shitty reputation for harassing western women, which is one of the reasons I've chosen to dress as close to an Egyptian woman as possible while here, fully covered except for my hands, feet, and face. I know I don't have to, but the other reason is it's a matter of respect.
On our first day here in Giza I only saw one Egyptian woman without a head-scarf and even she was covered from the neck down. But a lot of the tourists who come here decide to wear spaghetti straps and short shorts. It's amazing to me that any woman would even want to dress in such a contradictory way to the customs in a conservative culture this like. They stand out the same way that Nick stands out with his prostheses and probably get as much unwanted attention as well. I don't think I'd be comfortable leaving my hotel room here with that much skin showing. No way.
Anyway we had killer shish kabobs for dinner at a little hole in the wall place with a huge grill outside holding rows of kabobs. It was full of locals which is always a draw for us. I admit I'm not very experienced with Egyptian food, so I'm looking forward to trying all kinds of flavors while we're here.
Our walk home was uneventful except for dodging insane drivers while crossing the road. When we arrived at the hotel we saw sweet, caring Rahuma and had to gently tell him we didn't want a tour of the museum tomorrow, or for him to arrange transport for us either. How kind, but we really don't need to pay a middleman to help us get around. Breakfast will be ready at 7:30 though.
What an amazing first day in Egypt. I'll remember this day forever and ever and ever and ever.
Pin to your Pinterest boards!